AUTHOR: Knitti-me TITLE: DATE: 8:50:00 AM ----- BODY: Hitchhickers, Mom, and Maturity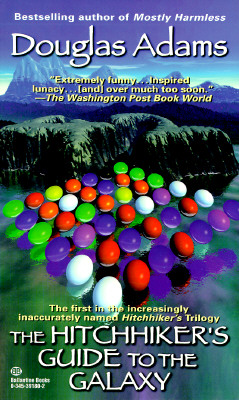 You're The Hitchhiker's Guide to the Galaxy!
by Douglas Adams
Considered by many to be one of the funniest people around, you are quite an entertainer. You've also traveled to the far reaches of what you deem possible, often confused and unsure of yourself. Life continues to jostle you around like a marble, but it's shown you so much of the world that you don't care. Wacky adventures continue to lie ahead. Your favorite number is 42.
Take the Book Quiz at the Blue Pyramid.

~~~ Despite having to get my kids ready for departure for a week at summer camp, I was able to sneak in some knitting time between doing loads of laundry, packing bags and making frantic trips to Wal-Mart for last minute purchases of mosquito repellent, sun screen, undies, and flashlights. In the middle of it all, my Mom blew into town on her way back from Wyoming in her RV. I love my mother; however, she is not he easiest person to be around (i.e., I can't relax or be myself around her). Of course she comes in to the "house of chaos," and offers to stay a few days to "help out" (read: to criticize me for my bad housekeeping abilities and take liberties to poke around in my personal business while I'm helplessly stuck at work!). Thankfully, my husband was able to talk her out of it and I was given a reprieve. WIP's * Wave/Shell Stole: I've made good progress; however, I added a new skein without realizing it was another dyelot and had to tink back 15 rows, of lace I might add, and attach the correct dyelotted yarn. Through this trial, however, I was happy to realize I had matured as a knitter. This time last year had I come upon a problem such as this I would have either a) kept on knitting with the darker dyelot and ended up hating the project, or b) frogging the whole thing (nearly 4 feet of lace!). But now I just threaded a lifeline through a row just below the join, probably about 18 rows, and ripped back being careful to note what pattern row I was on. Not a problem!
* Fuzzy white and turquoise scarf: Despite the chaos of the weekend, I was able to find my other knitting needle and will try to finish this scarf up in the next day or so and start the matching hat. * Flower Power Poncho: in stasis somewhere in the third row. * Natashia's Poncho: Still waiting for the Trendsetter Dune to be delivered. * Shapely T: Let's not even talk about her. * A new project! I had "start-itis" this weekend inspired by this yarn I purchased off ebay. .
After swatching (yes, I now swatch - another sign of knitting maturity), I decided to knit the Simply Copper Cardigan from the Little Box of Sweaters .
~~~ From the Ally Archives~
She's thinking, "would you please get that camera out of my face?!" --------